The Non-Sectarian DentalCare Center has been part of Jewish Family Service since 1920. This unique service is one of only two such clinics affiliated with a JFS in the United States.
JFS administers the Dental Care Center in partnership with licensed volunteer dentists from the Scranton District Dental Society and Fortis Institute. The Dental Care Center provides professional dental services. All treatments are provided in private dental offices with initial examination and diagnosis at Fortis Institute Dental Hygiene Clinic, Scranton. Care includes a complete dental examination, x-rays, cleanings, restoration and extractions. Specialized services offered include endodontic, periodontal and oral surgery.
Residents of Lackawanna County are eligible for services if they are financially unable to afford dental care. Applicants must be a Lackawanna County resident for a minimum of 6 months and be a United States citizen or a permanent legal alien. A screening and application process completed by Jewish Family Service will determine eligibility. The majority of patients receiving dental services have at least one family member employed, is on unemployment, supported by Social Security or supported by Social Security Disability benefits.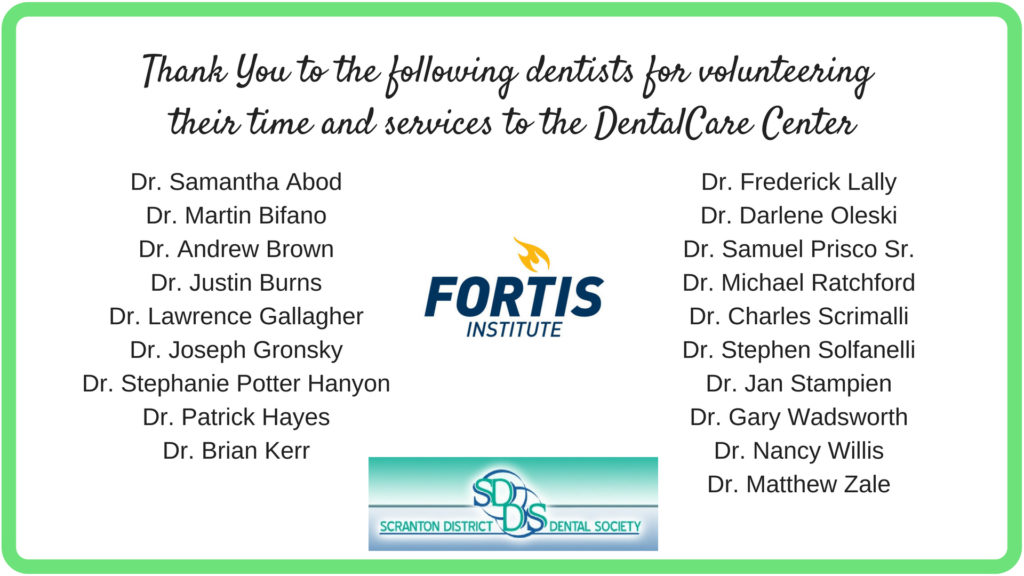 For additional information, please contact our office via phone or click here to email us. Information can also be found and the application process started by visiting Jewish Family Service of Northeastern Pennsylvania DentalCare Center Application. You will be able to download and print a hard copy of the application. Follow the instructions and mail the completed application with all required documents to us. You will receive notification by US mail as to the outcome of the completed review of your application.