JFSNEPA Receives $22,660 Check from Glen Oak Ladies Golf Association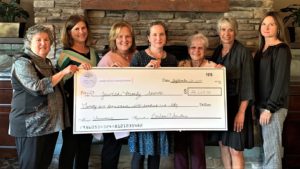 The Glen Oak Ladies Golf Association presented JFS with a check for $22,660 from their Annual Golf Tournament held at Glen Oak Country Club on August 13, 2019. Each year the ladies choose a local non-profit organization to receive the proceeds of the event which includes a round of golf and a luncheon at Glen Oak.
Pictured from left to right: Barb Nivert, Barb Sanders, Mary Wolk, JFS Executive Director Sheila Nudelman Abdo, Sandy Durbin, Kathy Emanuelson, and Ann Marie Arcure.