The First Friday in May is NEPA Match Day!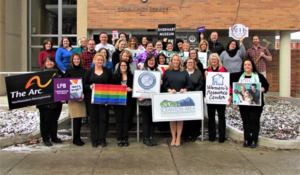 For 24 hours on May 4th, JFS and 24 other local nonprofits will work together in support of of NEPA Match Day and the critical work we all do in our community, which makes our region a better place to call home.
For every dollar raised by each of the participating nonprofits, the Scranton Area Community Foundation will match the gifts, dollar for dollar, up to $1,000 for each nonprofit.
For one day only: your $25 gift becomes $50, $100 becomes $200, and $500 becomes $1,000. Every dollar you give in support of NEPA Match Day will double.
Here is the list of 2018's participating nonprofits:
Alzheimer's Association
Catherine McAuley Center
Children's Advocacy Center of NEPA
Countryside Conservancy
Dress for Success Lackawanna
EOTC
Everhart Museum
Greater Carbondale YMCA
Greater Scranton YMCA
Heritage Valley Partners
Indraloka Animal Sanctuary
Jewish Family Service of NEPA
Junior League of Scranton
Lacawac Sanctuary and Field Station
Lackawanna Pro Bono
Leadership Lackawanna
Marley's Mission
Maternal and Family Health Services
Meals on Wheels of NEPA
NEPA Rainbow Alliance
Northeast Regional Cancer Institute
Scranton Cultural Center at the Masonic Temple
The Arc of NEPA
United Neighborhood Centers
Women's Resource Center
All gifts received by the Scranton Area Community Foundation will be divided evenly the 25 nonprofits. If you are mailing a check to JFS  be sure to note "NEPA Match Day" in the memo section. Gifts received by mail up to a week after May 4th will count toward the NEPA Match Day total.